Successful support for R&I cooperation between Europe and South Africa
12. Apr. 2019
Final event of the ESASTAP project
On April 12, the ESASTAP partners organised a final event at the European Commission with the presence of Director Generals Jean-Eric Paquet (European Commission, DG Research) and Dr. Phil Mjwara (Directorate for Science and Technology, South Africa) showcasing several success stories of the project and highlighting future possiblities, within different programmes (such as EUREKA and COST) and in particular Horizon Europe.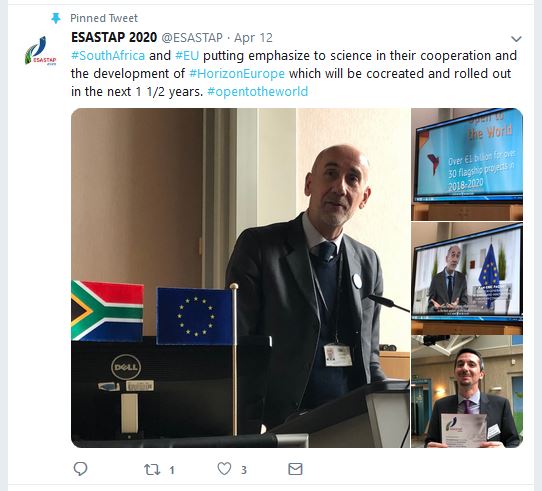 At the event ESASTAP2020 "Reflecting on EU-South Africa STI cooperation", DG Jean-Eric Paquet highlighted the importance of the cooperation with South Africa and invited the international stakeholders to also partake in the co-creation of Horizon Europe which is going to happen in the next one and a half years. The mutual appreciation of the cooperation and of the ESASTAP platform was also emphasised by Dr. Phil Mjwara. The event also marked in particular the acceptance of South Africa as a partner member of the COST programme.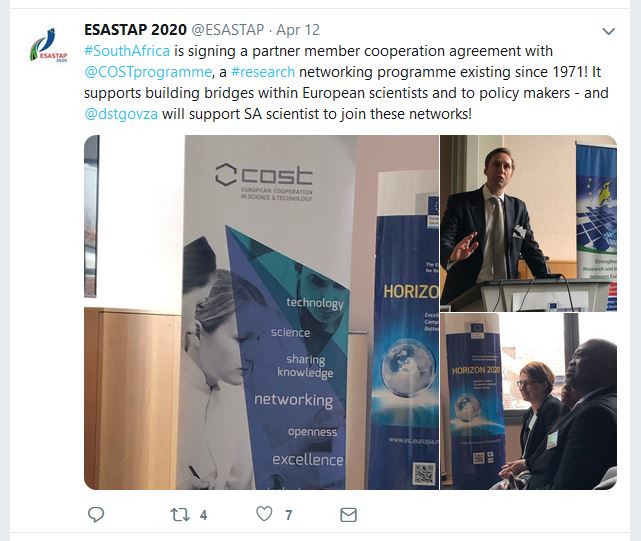 Dimitris Filippidis, project coordinator from PRAXI Network-FORTH, Greece, outlined the evolution of ESASTAP - which is basically a series of different projects, and its legacy. Centre for Social Innovation, ZSI, was part of the project consortium implementing the ESASTAP activities in EU Member States. In general, the platform is going to be continued, but the concrete modalities are still to be defined.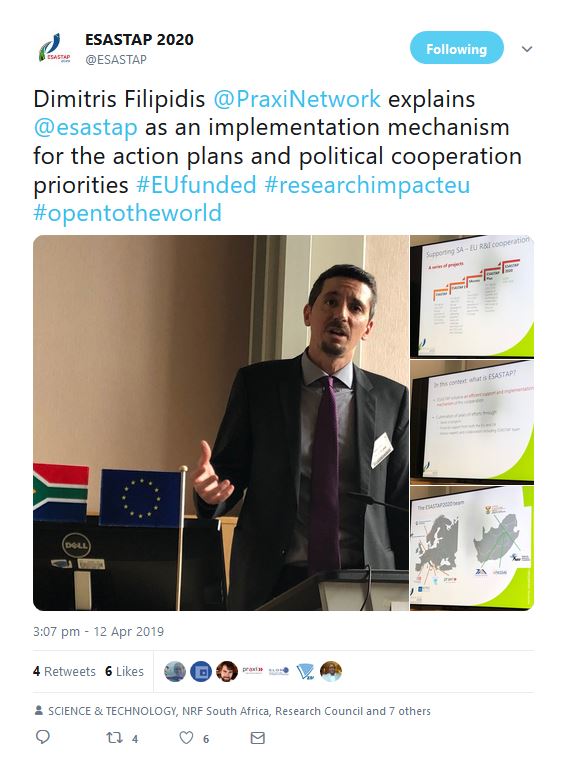 Several highlights of the cooperation have also been presented, such as:
BIOWASTE4SP, an FP7 funded Project co-invested by DST introduced by Dr. Bruce Sithole
CHARPHITE, a co-funded project under the ERA-NET ERAMIN, presented by Dr. Maleke Maleke
ESASTAP2020 Twinning activities and results of the international exchange programme of technology transfer officers
And a panel discussion focused on the way forward in advancing the EU-SA STI cooperation involving for example the EUREKA/EUROSTARS programme: Wolfgang Wittke (EUREKA) and Patrick Krappie (Technology Innovation Agency, South Africa) informed about an upcoming call for cooperation opportunities and invited to join the next global conference of the EUREKA network in Manchester. On behalf of DG GROW, Patrick De Smedt highlighted the contributions of the Enterprise Europe Network and Cluster Platforms and also the European External Action Service, represented by Lidia Alfonso-Gallegos confirmed the importance of scientific topics for the cooperation and the importance of the different stakeholder inputs. Other participants included the highlighted specific topics such as water research (Water Research Commission, SA, Mamohloding Tlhagale), climate change and social sciences/humanities.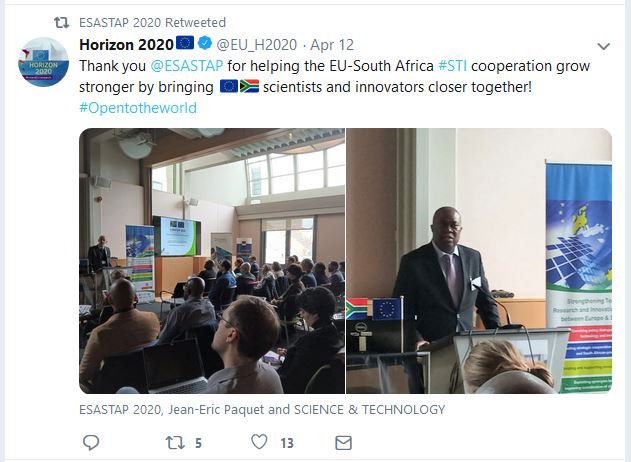 Further information about the event can be retrieved for example from the documentation on twitter.
Downloads:
Related Articles:
Tags: Africa, innovation, research cooperation, science diplomacy