CE-Ageing Platform
29. Apr. 2011
Kick-off Meeting of the project held in Linz
The kick-off meeting of the project "Central European Knowledge Platform for an Ageing Society" ("CE-Ageing Platform") was organized by the Chamber of Labour Upper Austria (AKOÖ) in cooperation with the Centre for Social Innovation (ZSI) in Linz, Austria on 30 – 31 March 2011.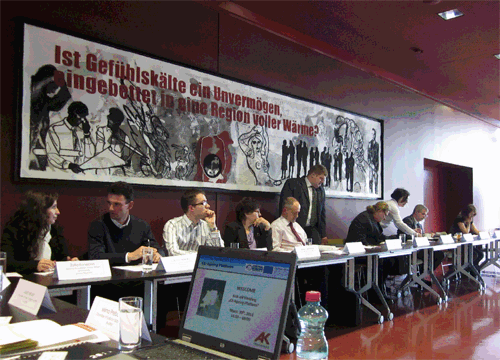 The meeting, held at the AKOÖ premises, was attended by core project partners as well as four strategic partners. Next to bringing all projects partners together for the first time, the meeting's focus was to provide comprehensive information about the CE-Ageing Platform work programme including detailed introduction of six work packages and its activities scheduled for the period 01/2011 – 12/2013. Finally, the management structures of the project (Project Steering Committee, Age Steering Group, Financial Auditing Group) were established.
The Kick-off meeting was followed by the Project Steering Committee/Financial Auditing Group meeting held on March 31, 2011.
Two inputs on financial details, audit and reporting procedure were provided by the project financial manager Klaus Schuch and by the project communication manager Jana Machačová.
The project web platform including document database related to "ageing" accessible for different target groups is going to serve as knowledge base for all partners and interested institutions/persons and will be available no later than in June 2011.
For further information about the project, please visit https://www.zsi.at/object/project/1570 or contact directly Jana Machačová.
Related Articles:
Tags: ageing society, social innovation