'EU4TECH PoC' project has come to an end
31. Jan 2022
ZSI applauds the successful technical assistance for ideas from the Western Balkans to move towards the market
This impressive project was implemented by a group of international experts under a contract with the Directorate-General for Neighbourhood and Enlargement Negotiations of the European Commission (under Multi-country IPA) and with the technical support of the Joint Research Centre (JRC). The project was led by a consortium led by IDI (International Development Ireland) with META group Srl. and Deloitte IP Advisory UK.
ZSI expert Elke Dall was contracted as a non-key expert to support communication in the project and link the work of the supported projects with the EU policy discourse. "It was a pleasure to learn from the key experts of the project, the project leader Lisa Cowey and in particular the selected projects, the innovative ideas and the enthusiasm of the actors behind these new endeavours", she concludes.
This project covered the 6 economies of the Western Balkans (WB6): Albania, Bosnia and Herzegovina, Kosovo*, Montenegro, North Macedonia and Serbia. Projects originated from both Public Research Organisations (PROs) and start-ups/ SMEs and support was received e.g. in relation to market analysis, entrepreneurship support and mentoring, business plan and business model development, technology development and prototyping for commercial demonstration, intellectual property management and future funding support.
Learn more about the project results here: https://eu4tech.eu/the-eu-funded-eu4tech-poc-project-has-come-to-an-end/ ...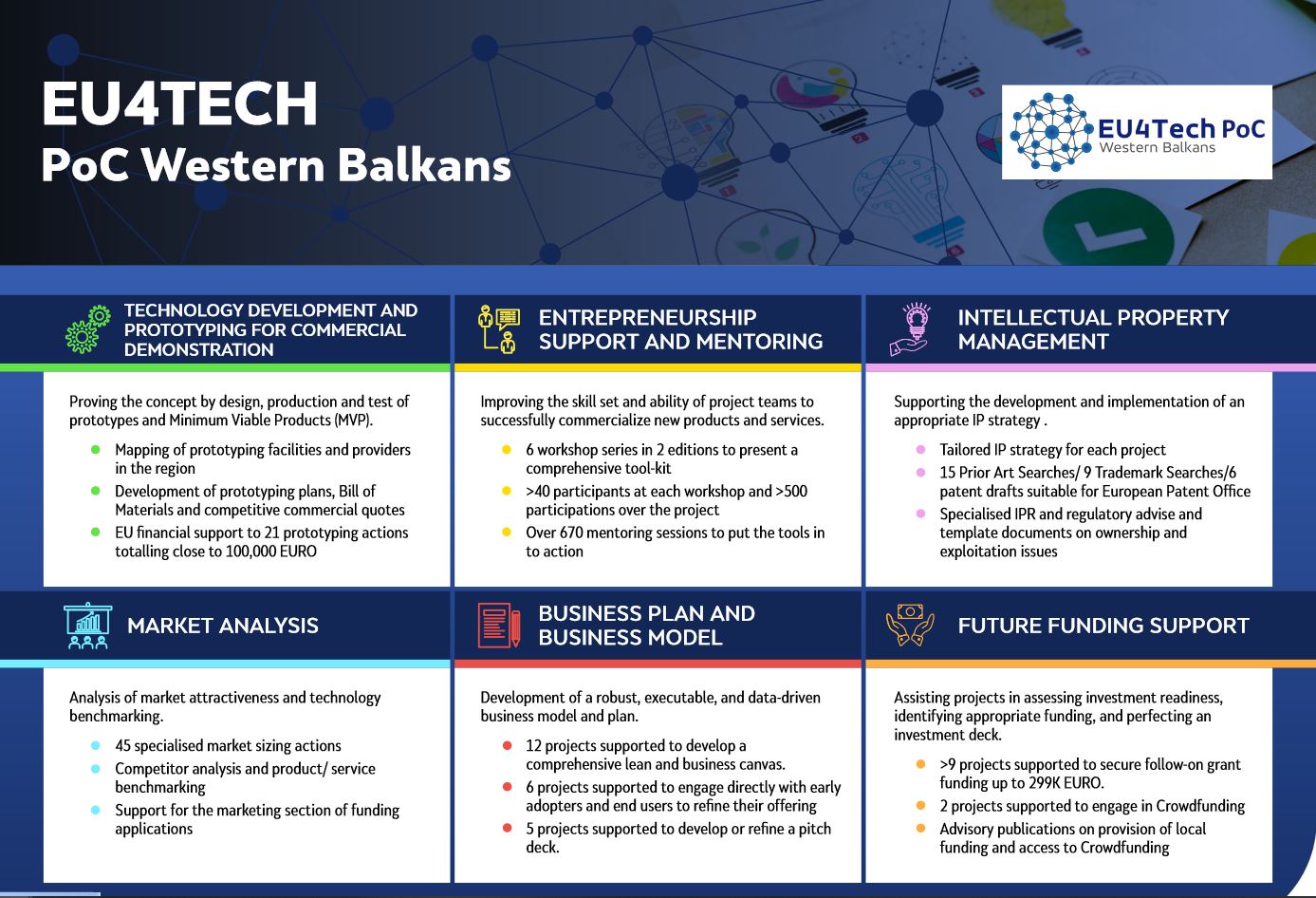 ... and in the final publication: https://eu4tech.eu/wp-content/uploads/2022/01/EU4Tech-PoC-Final-Publication.pdf.
For the next 12 months, you will be able to find profiles of some of the projects which have been supported as well as some useful publications on local prototyping providers, starting patenting and certification journey, finding local funding and getting going with a Crowdfunding campaign on the downloads section of the project's website: https://eu4tech.eu/category/downloads/documents/
Read some of the highlights on the project website:
Verwandte Artikel:
Tags: Balkan