Final meeting of the Community of Practice on Partnership in the ESF
14. Dez 2011
Review on the 10th Closing and Reflection Meeting in Vienna
The ESF Learning Network "Community of Practice (COP) on Partnership in the ESF" (set up under the ESF 2007-2013) held its 10th Closing and Reflection Meeting on December 6, 2011 in Vienna, Austria at the Federal Ministry of Labour, Social Affairs and Consumer Protection premises.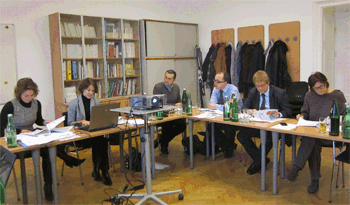 At the closing meeting the steering group members reflected about the successful work and implementation of the ESF network during the last three years and presented the core output document, the Partnership Learning Manual. The Manual will be published by the beginning of 2012 and will be available for download on the website. Additionally, the results of the external evaluation, implemented by the Tavistock Institute of Human Relations (UK), were discussed as well as future activities and potential cooperation in the future.
Final products and documents, produced during the last three years of the network, are available to download at COP website.
Tags: scientific networks, social change